Craig Mohler
Sounds Abound DJ and Master of Ceremonies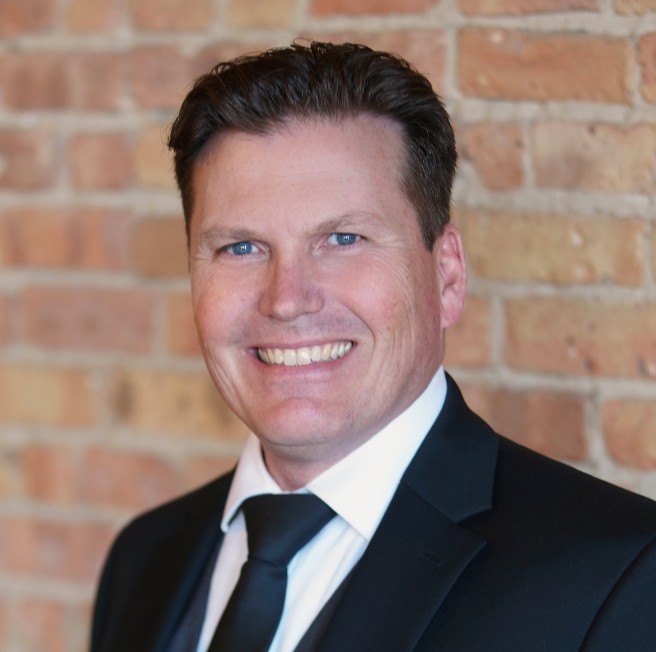 Craig's Bio
"That was a great party!" is what I want your guests to be saying. Remembering the party, not the DJ, means that your event will be talked about for years to come.
I am with Sounds Abound because I love the work! I truly enjoy providing leadership and the appropriate level of engagement to make your event successful. I am not there to draw attention to myself, but to lead the entire group in having a memorable evening.
I am an experienced DJ/MC that "has seen it all". My professionalism, experience, and desire to make your event special for you will make me a great choice for your party.
What Clients Say About Craig
We used Sounds Abound for our DJ, lighting, and photo booth! Very happy with all services provided. DJ Craig met with us twice beforehand to learn about our music preferences, and he provided an excellent music selection and amazing MC experience for our reception! Our guests LOVED the photo booth experience with fun props and accompanying guestbook- highlight of the night for many of our friends!
Hayley & Tim
July 1st, 2023
Thank you so much for your incredible contribution to our wedding day! Your talent, energy, and skill as our wedding DJ kept everyone dancing and celebrating through the night. Your ability to read the crowd and play the perfect music at the right moments added an extra layer of fun to our day. We loved how you opened the dance floor with the macarena, chicken dance, and congo line! And, you definitely made me look amazing by helping to keep the mother-son dance song a secret! We would happily recommend you to anyone who needs a DJ! We are truly thankful for everything you did to make our wedding day perfect!
Kelli & Michael
August 4th, 2023
DJ and Photobooth!!!
We used Sounds Abound for our 52nd high school reunion. The owner, Tony Ho was professional and responded immediately to any questions or needs that we had. The DJ, Craig Moeller, was excellent. He made many announcements for us and played our 70's playlist perfectly. He was friendly, professional and very agreeable to all our needs. I would recommend him without reservation. We also had their photo booth for our event. Joe, the attendant was excellent and professional and everyone had fun getting their pictures taken by him. It was a very fun feature of our event. Both men set up and took down their equipment in a very professional way. We were all so happy with both of them and would definitely use Sounds Abound again.
Sally G. (Rich Central High School)
August 5th, 2023
Craig Mohler was fantastic! He did a wonderful job at our 50th Wedding Anniversary Party on July 23rd. He kept everyone dancing on the dance floor. We had a lot of comments after the party on what a great time they had, and I contribute that to him.
Larry & Gloria
July 23rd, 2023
Craig did a wonderful job at our wedding. He met with us 2 times prior to our actual event to square away all details. This made the event go very smoothly. We really enjoyed his level of professionalism and fun!
Ryan & Jennifer
June 10th, 2023
Best DJ I could have asked for!
Sounds Abound was probably the best company we used for our wedding out of all of our vendors! They were super easy to work with, gave us SO much understanding and leniency during Covid and all the changes to our wedding date (we had to change our wedding date 3 different times)! Once we finally had our reception, our DJ Craig Mohler was AMAZING! We had so many special requests and he made them happen smoothly and without any pushback! When I say special requests, I mean we did a flashmob, also during some of the speeches the speakers requested help from Craig to queue certain songs throughout the speech, AND I wrote a song for my husband and recorded it and Craig was able to play it after I sent him the recording file. He did amazing even with all of mine and my family's crazy requests. He also played such a great mix of music that everyone enjoyed! The dance floor was so packed with people, and it was definitely because of the great DJ!
Emilee and Steve
November 12, 2022
Great to work with!
We were very happy with Sounds Abound. They are very easy to work with and make the whole process easy. Craig Mohler did a great job and kept the whole party happy and dancing. His communication skills are second to none.
John and Terri
May 14, 2022
Wedding DJ
Craig was the DJ for my husband and I's wedding, and he did an absolutely amazing job! Prior to the wedding, we had a few call meetings and each time, Craig provided so much support and reassurance. He made certain he knew just what my husband and I were after as far as music and the flow of the wedding! Craig was willing to help at any moment. The flow of the wedding was perfect. He made sure to check in with my husband and I throughout the night and played the most perfect music! I had many compliments from guests about the music played. All I can say is THANK YOU! I will recommend Sounds Abound to anyone who is looking for DJ services. Just amazing.
Kaitlin and Ryan
May 27, 2022
Craig and his daughter Jenna were amazing and made our night so special. Craig was so easy to work with, listened to our music preferences and played exactly what we wanted. We had lots of compliments on the music!
Andrew and Elizabeth
December 11, 2021
10/10 would recommend! We had Craig and from the start he was amazing. We had to postpone our wedding twice and Craig was great throughout the process. He communicated very well and met with us a few times before the wedding and just got our vibe! Throughout our reception he constantly communicated with us, made sure we knew what was coming next, and kept the party going all night! Craig was outstanding and really listened to what we wanted but still gave us insight on how to make the reception go as best as possible! Definitely would recommend this company and Craig to anyone!
Teresa and Justin
August 28, 2021
Craig was absolutely amazing! He kept everyone on the dance floor all night long. He checked in with us many times to make sure everything was how we wanted. Highly recommend sounds about and Craig!
Sarah and Tristan
September 17, 2021
Craig was an awesome DJ for our wedding! He helped to make sure everything throughout the night ran smoothly and kept everyone entertained and dancing with great music selections. We would 100% recommend Craig and Sounds Abound!
Jen and Tony
August 14, 2021
Sounds Abound exceeded our expectations in every way! We were fortunate enough to work with Craig Mohler and his daughters Jenna and Sarah! Craig helped us think through many questions that had not even crossed our minds to put on the perfect ceremony and reception! He had awesome music suggestions and stepped up to pretty much take over as our coordinator when we needed help running the show the day of our event. Would highly recommend this amazing company! We loved our photo booth as well!
Brianna and Kevin
July 24, 2021
We used SoundsAbound for our wedding reception at Cantigny Golf in Wheaton, and I couldn't be happier with how everything turned out! Craig Mohler was our DJ, and I would like to give him my highest compliments. Our planning meetings were fun and easy, and Craig helped me feel confident that he would make sure everything that was important to us happened at our wedding reception.
In terms of positive feedback, our guests loved the "mixed genre" playlists he crafted for cocktail hour and dinner, and Craig kept the dance party going all the way until the end of the night. My husband and I had never seen our families have that much fun before! Craig was also very helpful in explaining your online system (some features weren't working for us when we tried to use it), and he was able to find every specific song we requested, no matter how niche they were.
We absolutely loved having Craig as our DJ and are extremely happy with our SoundsAbound experience. I had the best night of my life, and I'll remember it forever.
Thank you again for everything!
Alyssa and Jacob
June 26, 2021
Craig was awesome to work with. We got so many compliments on the music he played. By the end of the night he had everyone out on the dance floor in the pouring rain! We would definitely hire him again for any future events! Thanks Craig!!!
Megan and Corey
October 3, 2020
Craig was the DJ for our wedding and he did a fantastic job all around. He was a true professional and ensured that the event moved along without my wife and I worrying about anything. We had multiple meetings with him before the wedding which gave us confidence that the night would go smoothly. The music selection was great and had everyone dancing all night. He communicated with us throughout the reception to ensure that we were on board with certain song selections. All in all, we highly recommend Craig and Sounds Abound for your event!
Shelby and Jake
October 31, 2020
We recently hired this company to DJ our wedding. Craig, our DJ, was amazing! He kept the music going, the people dancing, and the energy was fun. The volume never got overpowering. Craig's assistant, Amanda, was just as fantastic. I'd hire these two again for any event!
Mandy and Rich
October 12, 2019
DJ Craig, Thanks for the work you did for Thomas & Michelle's wedding back in September! We appreciated working with you. Thanks for helping make a great celebration.
The You Name It Team - Wedding Planner
September 21, 2019
WORTH EVERY PENNY!
HOLY COW! It's a couple of weeks after our wedding and we are still hearing from our guests how much fun our reception was! There are a lot of vendors out there, but I can 100% say hiring Craig and Sounds Abound was one of the best decisions we made for our wedding! They are attentive, caring, charismatic, professional and more! Music is one of the things I was most worried about because we love to two step, line dance, and are more of a country family than what's modern on the radio. From my first phone conversation I had with Craig my mind was completely at ease. He just got it. Craig could have picked every single song and I know he would have knocked it our of the park! Outside of my husband he was one of the best decision I made that day! Their online planner is also fantastic! I love how you can customize what you like and don't like! And the best part is they're respectful of it! I can't say enough good things about them! Craig - thank you! I wish we could go back and do it every weekend!
Kaitlyn and Robby
August 10, 2019
Excellent, Attentive, Great DJ Service
We used Sounds Abound for our backyard wedding reception after our destination wedding. Craig walked us through all the announcements and music selections for the evening prior to the evening, and went out of his way to ensure everyone was having a great time. We will definitely use Sounds Abound for our next big party!
Ryan and Meghan
August 3, 2019
Craig was a fantastic DJ at our reception!
We first heard about Sounds Abound at one of my best friend's wedding a few years ago. He had a lot of good things to say about them so after we got engaged, we checked them out. We were really encouraged to see that if we went with Sounds Abound we could pick our own DJ as long as they were available. After reviewing all the videos online, it didn't take us long to recognize that Craig Mohler was the DJ and MC we wanted for our wedding.
We got a chance to meet personally with Craig at their Naperville office. Craig is a very calm, cool guy. He's someone that is very likable guy with a sincere desire to make your wedding day special. After some introductions and funny banter, he started to share his extensive background and different approaches he has done for various receptions. He then asked us what we wanted and hoped to have for our reception. He talked about our tastes in music and style of reception we wanted.
From the very beginning through the reception Craig was always communicating with us. He always made us feel like our wedding day was at the top of his list. He offered a lot of good ideas and recommendations, especially around the type of music during dinner. We thought more slow, instrumental music was best but Craig suggested music a little more upbeat and he was right.
Craig showed up hours before the cocktail hour and had our choice colors all decked out with the wireless up-lights that were very cool to see. The cocktail hour went very well and he did a fantastic job getting us all to lined up and prepared for each of our entrances. He handled all the special dances like a pro. He came up to us a few times during the night to see how things we going and we couldn't have been more happier. We had issues with some other things that went wrong that night, but never once did we ever worry about or be concerned over Craig at Sounds Abound.
We were so thankful for Craig and will always recommend him to anyone who asks us.
Thank you so much for everything Craig!
Mike and Becky
Mike and Becky
April 27, 2019
We had Craig Mohler as our DJ for our wedding and he was wonderful. We have nothing but good things to say. We met with Craig once in person at the Sounds Abound office about a month before the wedding to discuss some details and go over ideas. We then scheduled a phone call the week of the wedding to go over any final details and any changes. He was very responsive and helpful throughout that last month. The day of he was promptly there on time and everything went the way we had planned. Our family and friends raves about how much they loved the music and even asked for referrals for their upcoming wedding. We are so thankful we chose Sounds Abound and Craig and we would recommend him In a heartbeat!
Lauren and Tim
June 8, 2019
Craig Mohler was the DJ at our wedding. He was awesome. His communication with us was great! We met with him a couple of times before the wedding. He listened to our vision and made a few very helpful suggestions. Our wedding was perfect! Craig was intricate in keeping the night running smoothly. The music was exactly What we wanted. The dance floor was full all night. People are still talking about how much fun they had. We are so grateful to Craig and Sounds Abound for helping us make our day more than we could have hoped for!
Cathy and Mike
March 23, 2019
We cannot thank our DJ Craig Mohler and his daughter enough for creating literally the best mix of music at our wedding. I would recommend this DJ company and especially Craig for any wedding ever. Thanks and lots of love!
Sarah and Lance
August 4, 2018
Best Emcees Anywhere!
A friend recommended Sounds Abound for a DJ to use as our MC/DJ for our wedding. We watched a couple of the sample videos and picked Craig Mohler because of his personality and presence he creates for the room. After meeting him we knew we made the right choice. He made us feel confident in his ability to make our wedding day special for us and made sure we were the top priority. Everyone had a great time and was very complimentary towards Craig for his efforts. We can't thanks Sounds Abound and Craig for making our wedding reception a truly unforgettable night.
Neil & Megan Lara
June 30, 2018
Excellent! Highly recommend
Craig was excellent for our July 2018 wedding. Unfortunately for me as the bride I had been sick all week and didn't make it past 10ish on my wedding day. Craig kept all my friends and family on the dance floor and I had nothing but wonderful comments and videos from friends and family. It was almost like I was on the dance floor with them 😜 I couldn't have asked for anything better. Thank you!
Dana and Nicholas
July 14, 2018
My husband and I got married on May 26th 2018, and our reception was at NorthFork Farm. We had Sounds Abound as our DJ and I have to tell you, they were the ABSOLUTE BEST! Craig Mohler was our DJ and  had the dance floor packed all night. Craig was in contact with us multiple times over the course of the planning process, especially closer to the event date and went over everything with us. He even gave us ideas of songs we could use when we were stuck and didn't know which way to go music wise. Vince was our photo booth attendant and he was happy and helpful and a delight as well! The music, photo booth, lights, and everything was perfect and I would use Sounds Abound for EVERY EVENT I THROW, if I had the money to do it! lol
Lindsey and Joe
May 26, 2018
The Knot Reviewed on 10/26/17
Sounds Abound was an absolutely amazing company to work with! They replied in a timely manner to emails which was awesome! Craig M. helped make our wedding day a perfect one. He was always on point and directed the day so well! My husband and I are so grateful to have worked with them!
We had a great experience with Sounds abound. Craig was great. He was available for any questions that we had before the wedding. He kept us in the loop on the day of the wedding and helped make our day stress-free. His music was appropriate, leaning more towards less current music, which is fine by us. There was definitely a 90s vibe going on throughout the night. Our guests seem to have a great time and everyone was dancing all night. The customer service we experienced was exceptional and I would definitely recommend Craig to family and friends in the future.
Tara and Matthew
September 9, 2017
Craig Mohler was our DJ and he did a fantastic job! He kept the dance floor full all night long and he manage a birthday surprise for my grandfather-in-law flawlessly. Many people told us after the wedding how much fun they had and that they thought the DJ was fantastic! If you're thinking about using Sounds Abound for your wedding, do yourself a favor and book them today. You will not be disappointed!
Erin and Josh
July 1, 2017
We can't thank our DJ Craig enough! He was simply amazing, organized, and a great communicator! Thank you very much Craig for helping us celebrate and making our special day so fantastic!
Ashley and Anthony
June 24, 2017
I cannot praise our DJ, Craig, enough; he was an amazing DJ, and we could not have been happier with him. We are still receiving compliments from our wedding guests about how great of a job Craig did.
Throughout the planning process, Craig was very attentive and engaged; he wanted to make certain that he knew the type of atmosphere that we wanted on our wedding day as well as the type of music that we wanted to be played. He was also very flexible with meeting times which we greatly appreciated.
On the wedding day, Craig was truly outstanding; he did a wonderful job of understanding the crowd and the right songs to be played at the moment; he is a natural at his job. We had over 200 guests at our wedding, and for a majority of the night, most of the guests were on the dance floor. I have never seen so many people dancing at a wedding.
Overall, Craig was very accommodating and understanding; we would highly recommend him to other couples, and we will keep him in mind for future events.
Jackie and Pete
June 17, 2017
Craig, Thank you for the wonderful entertainment you provided at the annual Derby Day event. We would like to thank you once again for a job well done!
Megan - Children's Home + Aid
May 6, 2017
Hound Song
Craig was amazing as always...we never have to worry about staying on track he keeps the guests engaged and is always professional
Holiday party
Craig Mohler was our DJ and he was fabulous! He contacted me before the event to see what kind of music and format we wanted as well as if any announcements were to be made. At the event we met beforehand and he would check in with me throughout the event to make sure everything was going well. Everyone had a blast and are saying best holiday party ever! Thank you so much! Will keep you in mind for the future and will definitely recommend you to others. Thank you for a great musical, fun experience!
Laura Donohue
December 10, 2016
Fantastic!
We hired Craig from Sounds Abound to be our DJ for our wedding, and he and his assistant were absolutely amazing! Craig got to know us and the type of music we like. At that meeting we could tell that he is very enthusiastic and passionate about his job. The timing for the music for our ceremony went flawless and cocktail hour was a hit. He was very upbeat during our introductions and kept everyone engaged in dancing during our reception. During our reception he checked in with us and was very flexible is adding a specific song in. Overall, Sound Abound has great staff. From the person we met at the expo, to the rep we were communicating with to help us pick a DJ, I would highly recommend Sounds abound and Craig to others.
Nicole and Tyler
September 24, 2016
Hello, I would love to give my testimonial! My husband Joe and I had Craig for our DJ. I must say that he was AMAZING! He was interacting with the crowd, teaching line dances, and just all around a fun guy! I would recommend him to anyone who needs a DJ! He also checked in with Joe and I through out the night! I knew from meeting him the first time that he was going to be great and fun! I will for sure miss working with Craig but if we need a DJ again we will know where to go and who to ask for! I wish I was able to say more about your company and Craig but I would write a long book! Haha! Again Craig was amazing! Sounds Abound has a real great DJ on their hands! Amanda
Amanda and Joseph Wollwert
October 22, 2016
Craig was the DJ for our wedding on October 1st. Craig was great to work without throughout our entire planning process. Not only was he prompt, organized, and friendly, but he did a fantastic job keeping the party going all night!
Thanks Craig and Sounds Abound!
Absolutely loved working with Craig Mohler with Sounds Abound! We selected him as the DJ for our daughter's wedding. We weren't sure how to get started and Craig was there for us every step of the way. He was a huge help in the planning of both the wedding and reception music. He combined our requests with his knowledge of how to make a wedding reception memorable for the special couple and all the guests. Thanks to Craig, everyone had a wonderful time!!
Donna Forbes (MOB)
June 25, 2016
Craig Mohler - Sounds Abound
After viewing the online portfolios for all of the Sounds Abound DJs, my fiancee and I decided on Craig Mohler. Craig was a pleasure to work with. He communicated very well with us prior to our big day, was very accessible in person, phone and email, and made sure no detail was overlooked. Very professional, made our wedding reception a blast. I would highly recommend Craig for any event.
Christopher and Sue Majczan
May 28, 2016
Quality, reliable, excellence
I (wedding planner) hired Craig with Sounds Abound for a backyard wedding that took place last Saturday. He was responsible for playing the music for both the ceremony and the reception. Craig did a fantastic job, alongside his assistant. He was very sensitive to my instructions and careful to pay attention to the little things that mattered to the bride (style of announcing, timing, etc). The music was perfectly cued during the ceremony and once the dance floor was opened up, it was clear that Craig was very experienced in gauging his audience; he knew what people wanted to hear and acted accordingly. He was also very good at timing; he stuck to my schedule perfectly. Thanks to him, we had a wonderful evening. Another note worth mentioning was the pre-event contact I had with Craig. He was diligent in being fully prepared for the event. He responded quickly to my emails and ensured that he was not a factor for me to worry about close to the event date. He also followed up with me post-event to ensure my satisfaction. I highly recommend this DJ.
Ellery E Rikhlyuk
May 21, 2016
I wanted to thank your company and particularly DJ Craig. My sister Maggie's wedding was in October of last year and it went phenomenally well. DJ Craig helped my pull off a surprise for my sister's speech and as I said on yelp, he helped me in ways I didn't realize I needed. I'm a little deaf and I never thought to ask to make sure the volume was up high so I could hear it, but he did it without my asking. He was also very discrete. I was able to surprise everyone at the reception. He gave me a very nice compliment afterwards and I wish I had remembered to thank him right then. It was a wonderful wedding in no small part because of the music. The happy couple are still together and we're all still talking about what a great day it was. Thank you for being part of it. It was nice that with all the worrying going on beforehand, we didn't have to worry about the entertainment. Craig, thanks for having my back!
Mary (Sister of the Bride) for Maggie and Alex
October 17, 2015
We used Craig for a surprise party and he did a great job! I will hire him again for my next event! Loved everything about the company from the first call , to planning, and event day! Great job and thanks for making our night so special!!
Kelly Vondrasek
November 7, 2015
Professional, communicative, fun!
I felt that they made the entire process easy, fun, and stress free. Our DJ was Craig, and he literally captivated the romantic, fun vibe I was looking to achieve for our wedding. He was prompt, professional, and overall just really experienced in creating the perfect tracks to get everyone out on the floor. I felt anxious about the night going well because of our location of the dance floor- he exceeded my expectations and did more than a Dj has to, to ease my mind and reassure me. Everyone loved him, it was like I had one of my friends behind the Dj booth! (Sorry for all of the drunken frat boys hanging around you a significant portion of the night though, Craig) But I'd like to Thank you for entertaining our requests, even playing "turn down for what" earlier than we planned!(= I'd recommend them to anyone looking for a DJ...Thankyou again!
Karee and Billy Romanow
September 26, 2015
GREAT DJ!!!!!
Craig Mohler was the DJ for our wedding, with an assistance, Vince. They did a fantastic job! They kept our dance floor packed and ensured our agenda stayed on track. Sounds Abound was easy to work with from the beginning to the end! Their online client tool is extremely useful and helped coordinate the event easily with the DJ. They have packages for various needs and prices. I would recommend Sounds Abound and Craig Mohler!
Dan & Christina
September 19, 2015
Accommodating, Professional, Friendly!
Craig was the absolute best DJ! He contacted me multiple times before the wedding to make sure everything was perfect. I also had a few requests regarding genre's that I didn't want to be played and he followed them to a tee! He was very friendly and professional and we could not have asked for a better DJ! Thanks!
Mary and Clayton Feldott
August 8, 2015
Darlene and I highly recommend Sounds Abound as a class act with numerous experienced wedding dj's with an eye to detail and special touches.
The interaction with Craig  Mohler was exceptional. Initial telephone planning, music selections, and final in person meeting were outstanding and made our wedding a tremendous success.  All aspects of the MC and music were  exceptional and all of our guest had a wonderful time.
Of particular appreciation was the ability of Craig to engage and lead the Line Dance dance songs. This by far allowed the entire group to gander the courage the hit the floor.
Jackie and Darlene
August 15, 2015
Best possible DJ experience. The Maid Of Honor rapped her speech to the music of Fresh Prince of Bel Air, my husband and I planned a surprise dance, and the mother of the bride planned a flash mod. All events went off without a hitch due to the professional and experienced DJ Craig Mohler at Sounds Abound. Introductions were excellent and the entire night was exactly what we had hoped for, if not more. Craig was the DJ for both my sister's and cousin's wedding as well. I highly recommend his work. He even let the bride since Tiny Dancer at the end of the night. Thanks for everything Craig!!!
Christie and Jason Neighbors
June 13, 2015
Craig did an awesome job at our wedding. His communication with us was great, he was very easy to work with, and everything was done with complete professionalism.
Highly Recommended
Sounds Abound was highly recommended by the event coordinators at Maggiano's and I can see why. This is our second year back there for our company Christmas party, and we had even more fun this year than last, which was hard to top, but I requested Craig again, and he made it happen!! If we're lucky enough to have another party next year, I know I'll ask for Craig.
Craig Mohler did a great job. He kept the everyone dancing and having a good time. He was very professional during all events like cutting of the cake, first dance and etc. I'm very happy with quality sounds abound gave me for my wedding and I highly recommend Craig for anyone else's wedding.
Michael and Katie Smooke
November 7, 2014
Craig Mohler was a terrific DJ at our 50th wedding anniversary celebration. He played the music we requested but also added songs based upon the guest's desires. He kept the party lively and was a perfect MC. The DVD presentation created by Sounds Abound was a big hit with numerous guests raving about it. The entire evening was a tremendous success. Thanks to you all!
Dick & Sharon
Our wedding was in May 2009 and Craig Mohler did an amazing job. Really kept the party going and played the music we wanted!!
Nicole & Elias Shaheen
Wedding Reception
We just wanted to thank Craig Mohler for the great job he did with our wedding. We had a meeting with Craig about a month before our wedding to discuss the details and a follow-up phone call the week of the wedding. We felt we connected with Craig and he understood what type of music we wanted played during cocktails, dinner, and for dancing. He was always there to answer our questions and kept the night moving along on time. Everyone had a great time. We had a great experience with Sounds Abound and would recommend them in the future. Thanks again Craig!
Linda and Sergio Senese
September 21, 2013
Craig did an amazing job at our wedding. He was so helpful, making sure everything was running smoothly and on time. He let us know when we were running behind which was so helpful. The dance floor did not stopped being packed the entire night. Everyone had a blast. Thanks Craig!
Crystal and Phil
September 7, 2013
We had Craig as our DJ. He made the night memorable and fun! He was an absolute joy to work with from day one. He understood our vision and our crazy requests. He gave 110% to us and our guests. We heard numerous raving comments about Craig and how the DJ made the night amazing. Our experience with Sounds Abound was wonderful and we'd recommend Craig and the entire company to anyone. We were lucky to have come upon a vendor that allowed us to have a wedding night to remember.
Adam and Katie Jankowski
August 10, 2013
Craig was the DJ for our wedding on July 20, 2013, and he did a great job! Everyone of all ages was out on the dance floor because of him! He did a great job of making sure that all the songs were played that our guests requested, and again the dance floor was ALWAYS crowded. I've never seen a dance floor so crowded at a wedding. Thanks Craig and Sounds Abound for a great DJ and music for our wedding. I would high recommend Craig. He has great energy and is there for you!
Lauren and Keith
July 20, 2013
The night was great due to Craig!!!
Jill - Graycor, Inc.
December 14, 2012
"Craig did a great job and we couldn't have been more pleased with the memories of the evening. Both he and his assistant, Vincenzo, kept the excitement of the day going well into the evening with their skill and professionalism. Craig used his experience to fine tune our evening's playlist to keep the dance floor filled and the mood high for all of our guests and, as a result, we received many rave comments about the party and Sounds Abound. We would strongly recommend the people at Sounds Abound and especially Craig Mohler for any occasion or event that deserves a great party. Thank you Craig, Vincenzo and Sounds Abound."
Jill – Graycor Holiday Party – December 10, 2011
"Craig seriously could have planned the entire party himself. He was overly prepared and had everything under control! I will refer him, no doubt and ask for him to dj our party next year!"
Debbie (MOB) – Laura & Kiel – October 22, 2011
"I want to take this opportunity to complement you all for helping make our daughters wedding a wonderful party. Our DJ was Craig. He did an amazing job keeping everything moving along and everyone dancing. It was a great time. We had many complements about him and your company. Thanks again."
Megan & Luke – October 8, 2011
"Craig was an awesome DJ and so professional. His personality and attitude fit perfect with us. I would recommend him to anyone who wants a fun and interactive DJ to perform at any occasion. Thanks Craig you made our day an incredible experience!"
Emily & Michal – September 10, 2011
"I truly had a blessed day! My DJ was great. He listened to all my requests and my guests danced the entire night! I still have people telling me that it was a great night and that they loved the music!"
Michelle & Anthony – September 3, 2011
"Craig did a fantastic job! Very professional yet relaxed."
Diane & Michael – August 6, 2011
"We were extremely satisfied with Craig and Sounds Abound for our DJ at our wedding. We planned our wedding from California. Craig and the staff were constantly updating us as the wedding got closer. The online wedding planner also was a terrific aid for the reception. Meetings with Craig always went smooth and he was very helpful in helping us plan the reception. Everything we asked for he did for us, even last minute changes. Our wedding was to end at 11pm, and at 1030pm we asked Craig if he could stay an extra half hour. He was absolutely happy to do so for us, and had a smile on his face the entire time. Everyone we talked to said he was so great and put on a good party and accomodated many song suggestions that were made. I am so thankful we chose Sounds Abound and Craig to be our DJ. He completely exceeded our expectations! THANK YOU SO MUCH…. we have already recommended you to my sister, who plans on using you in February! There is absolutely nothing that went wrong, everything we asked for we got….. Keep up the good work!"
Joan (MOB) – Alicia & Harley – January 22, 2011
"Craig did a great job – we were very pleased."
Jennifer & Frank – October 9, 2010
"Everyone was so friendly and helpful. We loved the photo montage. Craig was excellent and really cared about how we felt the night was going. We were really happy with everything!"
Jennifer & Christopher – September 25, 2010
"I have never been so impressed! The entire experience from beginning to end was amazing. The entire Sounds Abound staff was extremely helpful and our DJ Craig was the best! Not only did he meet our expectations, but he went above and beyond to ensure everything was more than perfect. Everyone at the reception was commenting on how much they liked Craig and how fun he was making the party. The online planner was a great tool also and made things very easy for us throughout the planning process. I would highly recommend Sounds Abound to everyone!"
Schreiner Wedding – August 14, 2010
"Craig did everything we asked and more. We really liked that he kept emphasizing that we were there to have a good time and just let him know what we needed!"
Megan & Bob – June 5, 2010
"Craig was very nice and professional, and kept the dance floor crowded all night!"
Courtney & Paul – March 20, 2010
"Craig was excellent"
Cheryl & Jim – September 12, 2009
"Craig did a wonderful job throughout the entire process and night. We had several guest tell us how fantastic the DJ was. We are extremely happy with the job that Craig did. Please pass along our thanks to him! We will recommend you guys to anyone that needs a DJ. Thanks."
Kimberly & Charles – August 15, 2009
"Craig was FANTASTIC!!! His suggestions for the night worked wonderfully. He was really great to work with and helped the night run smoothly. Everyone had a great time."
Tanya & Doug – May 30, 2009
"Craig did an amazing job at our wedding! It has been three weeks since our wedding and we are STILL getting compliments about how much fun everyone had and how great our DJ was. Craig did a great job of keeping us informed about what was going on throughout the night. He was extremely professional yet laid back which is what we loved! He kept the crowd going the entire night and by the end of the night the crowd was chanting 'one more song!' I can't express any further just how great he was and how satisfied we were with his performance! He not only met, but exceeded our expectations. I would recommend Craig and Sounds Abound to anyone who is looking for a DJ. Everything was great. I wouldn't change a thing!"
Lyndsey & Joe – April 25, 2009
"Craig wes Excellent"
Amy & Brian – October 18, 2008
"We loved our DJ, Craig Mohler. He was professional, but light hearted and really made the evening exceptional. Many of our guests commented on how much they enjoyed the music and our DJ. Top notch. Thank you."
Erin & Jim – September 6, 2008
"Craig was awesome! We spoke a few times prior to the event and he understood exactly what we wanted and we trusted his experience. We had a pretty mixed crowd and he did a wonderful job engaging all ages. Everyone had a great time!! We loved that Sounds Abound was up front with the pricing and we were able to handle most of our arrangements, selections, etc. online or over the phone. As busy professionals, we wanted to work with a company that was forthcoming and offered us multiple options for planning our event."
Nicole & Josh – July 12, 2008
"I would just like to thank Sounds Abound for the wonderful entertainment. From the very first phone call to book the DJ, until the last dance of the night, everything ran smoothly. Craig was there at any time to answer questions and he was very organized. We really felt like he took the time to get to know what we wanted our reception to be like and did his best to make that happen. Thank You!"
Liz & Kenny – June 7, 2008
"We were thrilled with our DJ, Craig and the amazing job he did at our reception! Not only did he play great music all night, but he went above and beyond by making sure that we had everything we needed all night long. We were very impressed with Sounds Abound as a company and would definitely use them again!!"
Meghan & Shea – May 10, 2008
"We were very pleased with the job Craig did at our wedding. He was very professional and ran the events at the reception perfectly! If we know of anyone in the area getting married we will happily recommend both Craig and Sounds Abound."
Christy & Dustin – March 15, 2008
"Craig was great! Everything went extremely well and we didn't have to worry about a thing. He selected great music and read the crowd well to keep them dancing. We received great feedback from our guests-3 asked about Sounds Abound for upcoming weddings and our videographer said he was one of the best DJs he's worked with! Thank you!!"
Kim & Trent – February 23, 2008
"Everyone at Sounds Abound was extremely helpful. Everytime I called with a question they made sure they answered it completely. Not only did I use your services to book a DJ but I also ordered invitations, party favors, bought my unity candle and memorial candle. Having so many services made everything so much easier for me. Our DJ, Craig, did an AWESOME job. We had people dancing all night which is exactly how I pictured my wedding reception. He was extremely helpful and really made us feel at ease. I was so impressed with everyone and everything and I will definitely use you in the future."
Danielle & Bryan – October 13, 2007
"Craig was GREAT to work with! He really worked with the songs we wanted and found a way to fit everything in. We loved him! He kept the guests on the dance floor all night. I highly recommend Craig to anyone who wants a great DJ!!"
Jaime & Adam – July 7, 2007
"I told Crag after the reception was over that he did a terrific job. I've had many guests tell me since the wedding that it was a great party, with great people, great music and great dancing. Craig was responsible for a huge part of that. He played the music we wanted played and kept people on the dance floor all night. Thanks!"
Sarah & Jason – June 9, 2007
"Thank you for being the perfect DJ service and for making our wedding so wonderful. Craig Mohler was fantastic. His communication with us was perfect and enabled me to plan out surprising my bride by singing a song to her during the reception. Although we may have selected too many songs, Craig kept the party going very well, and his experience was noticeable by his great song rotation and timing. We are so glad that we called Sounds ABound, and we thank you very much for all your assistance and expertise. Craig and Sounds Abound are top of the line."
Melissa & Brian – June 10, 2006
"Everything was wonderful! Our DJ played what we wanted and everything else that he played was fantastic. We had lots of compliments about our DJ Craig. He was on the ball and very helpful. Thank you so much, we did not have to worry about a thing!"
Diane & John – October 22, 2005
"Craig Mohler did an awesome job! He understood our tastes and was so easy and friendly to talk to. We and our guests had so much fun, thanks to him. We spent the whole night on the dance floor! We just wished we could have stayed longer!"
Melissa & Douglas – June 4, 2005
"Craig did a fantastic job – very personable, very patient, very attentive. We were so very happy with him!"
Chrissy & Dave – July 10, 2004
"We want to thank you for the wonderful job you did at our wedding. You helped us throw an amazing party that we will never forget. Everyone had a blast! Thanks again."
Sandra & Dan – March 20, 2004
"Craig was excellent. Everyone had a great time including us. Sounds Abound pulled our whole event together. Would not have been fun without them."
Anne & Brian – December 27, 2003
"Craig was terrific! Very professional and very friendly! The music was awesome! We received so many compliments on the music selections! The dance floor was full the whole evening thanks to Sounds Abound."