Ray Jones
Sounds Abound DJ and Master of Ceremonies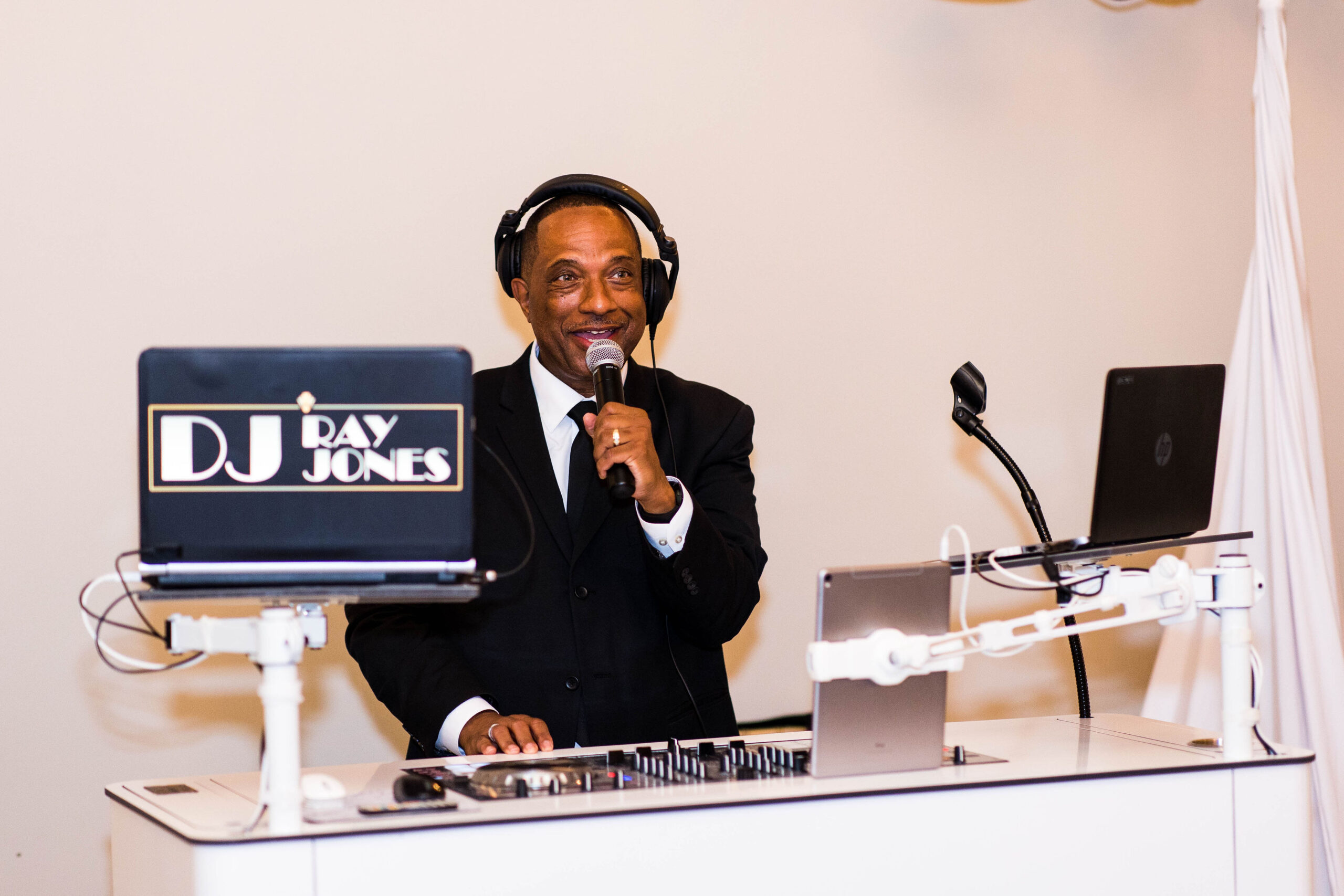 Ray's Bio
Ray is a Chicago native that has traveled the US and abroad entertaining at Weddings and so many other various functions over the years. Ray has always loved music and is recognized as one of the Architects/100 Most Influential DJs in Chicago House Music. Ray would later find an interest in Weddings and has become one of the top Wedding DJs in the industry. Ray is laser focused on his client's vision for their Special Day and makes the effort to exceed their expectations. Ray is well versed in all types of music and can entertain any style of Wedding you might have. If you want a superior DJ/MC that will make your Wedding Day one to remember, book DJ Ray Jones.
What Clients Say About Ray
The wedding was such an amazing time and DJ Ray was so helpful with everything. It was more than what we asked for. He went above and beyond what we expected. Would recommend him to everyone getting married.
Lauren & Keith
October 7th, 2023
Excellent, Attentive, and Engaging
Ray was a phenomenal DJ for our wedding. Ray provided everything for us (to speakers to lights). The week of the wedding, he scheduled a flexible and convenient meeting with us to go over the ceremony music, introductions, speeches, toasts, and reception music. We provided him with a playlist to add into Ray's mix of songs. During our wedding, everything went smoothly. Ray was attentive to the music volume and flow/vibe of the evening. He was also flexible with providing us time in between the transitions of our evening timeline. During the party time of our wedding, he always got our guests to come back to the dance floor ready for more grooves. You were amazing, Ray!
Rachel & Brandon
October 14th, 2023
My husband and I got married just under a week ago at the Haight and as background knowledge I, myself am a day of coordinator for weddings. With that said I would highly highly recommend Sounds Abound to keep your evening on track and lively. However, above that, We would like to recommend Ray Jones! He read the room and knew what they needed to keep going, his skills as an MC are flawless (good pace and tons of energy). I had wedding guests coming up to me throughout the night to mention how amazing he was. If I had to do the day again, no hesitation Ray Jones is the guy!
Amber & Anthony
November 12th, 2023
DJ Ray Jones has been the best DJ I have ever seen at a wedding. He blended a wide range of music genres perfectly. He commanded the room of almost 150 people without breaking a sweat. He kept the party up on a high energy level from ceremony to reception to last song!!! He played every special request perfectly!
Cynthia & Tim
November 4th, 2023
DJ Ray was such a fun DJ for us to have at our big day! He got all of the guests involved and kept the dance floor going! Would work with DJ Ray and SoundsAbound again!
Becca & Zach
October 28th, 2023
My husband and I had the great pleasure of working with Ray Jones for our wedding earlier this month. Ray was spectacular and was so accommodating for anything we asked for. He was professional during the entire process from planning to the wedding day. Our guests raved about his performance and how great he kept the crowd engaged. If we could do it all over again, Ray would be our first call! We will definitely recommend Sounds Abound Entertainment to our friends and family.
Kristin & Justin
October 6th, 2023
Ray is AMAZING!!!
From start to finish, DJ Ray was amazing for us! I'd recommend him 10/10 times to everyone!
Kyle & Elizabeth
September 29th, 2023
What an amazing night! We had a great time!
Cristina & Joe
September 23rd, 2023
Ray was GREAT! He kept the guest dancing and everyone had an amazing time. We didn't have to worry about anything. Thank you so much!
The New Mr. & Mrs. Chatters
September 22nd, 2023
An amazing company and an all around amazing Dj experience
To say this company is the most down to earth company I worked with during my wedding experience would be an understatement! From the moment I reached out, I knew I would be in good hands. Tony Ho, the owner, responded to most of my initial emails promptly and with great detail, at times anticipating my follow up questions and providing answers prematurely (my bridal brain thanks you for this). The office staff (Nicole) kept in contact with me from then on. They sent reminder and confirmation emails about payments which eased my mind, followed up to make sure all my questions were answered, and always checked in along the way. On our wedding day, Ray Jones went above and beyond! He was actually the very first person to greet my bridesmaids and I outside the venue even! I could tell he had already spent time to familiarize himself with the grooms and groomsmen too because everyone was immediately comfortable around him. Ray called me a few days before the wedding to go over pronunciation of names, song requests, and timeline, and showed up with all his own equipment on the day of-including lights and microphones. Everything ran so smoothly and Ray had a way of catering to all our guests no matter the age while also ensuring that he met our needs as a couple. His talent and passion truly shows through to his work. This company as a whole truly loves what they do and it shows. I would recommend this company to anyone who is looking for an amazing wedding or event and an incredibly personalized experience along the way. Thanks so much to the team for all that you do!
Kaitlyn & Christian
September 1st, 2023
Betty and I were beyond pleased with Ray on our special night. He was a complete pro. He had the party dancing the whole night. He indeed made our night most memorable. Would most highly recommend his expertise at any event. Regards. John and Betty
John & Betty
June 30th, 2023
Grand Slam of a MC
Our DJ MC Mr. Ray Jones blew our expectations out of the park! My wife and I have a very diverse taste in music and he was so accommodating! Very professional and beyond personable. All the transitions through the wedding were so smooth and our special requests were accomplished with some pizzaz thanks to Ray. I can not express how much of an amazing job Ray did! 10 stars all the way!
Jonathan & Celia
September 3rd, 2023
Ray Jones was the BEST DJ/MC to work with! Since the moment we talked to him on the phone when trying to find our DJ/MC, we knew right away he would be the perfect match for us. He has strong energy and truly cares about his job. Ray also was very flexible, especially when making a few changes to our original song selections for the bridal party and bride/groom entrance. We also used the photo booth with Sounds Abound, and our guests loved it! Sounds Abound in general is very organized (by sending reminder e-mails about surveys to complete and to payment reminder), plus everything is easily accessible by an online website. I would highly recommend working with Ray and the Sounds Abound team!
Ashley & Matt
July 8th, 2023
Sounds Abound did a wonderful job at our wedding! They were very easy and professional to work with. Our DJ was Ray Jones and he kept everyone dancing all night! We also did an open air Photo Booth through Sounds Abound. Tony designed the background for us to match our invitation. Our guests absolutely loved it!
Victoria & Nick
June 17th, 2023
BEST Time!!!
We had the BEST time with Ray Jones as our DJ for our NYE 2022 wedding!!! From the moment we booked with Sounds Abound, they made the entire experience so easy and fun. The company is incredibly responsive, answering questions as needed and also sending out reminders when you get closer to your wedding date. The online planner was easy to use and really helped us get our music organized before the big day.
Our first meeting with Ray was on a phone call and we loved him from that moment!!! Ray is enthusiastic, welcoming, flexible, and passionate about what he does. We knew from that phone call that his fun and lighthearted spirit would be the perfect match for our NYE wedding. Ray is truly a pro; our wedding was at the Joliet Union Station Grand Ballroom (dream venue!) which has some acoustic challenges due to the stone walls/ceilings/floors and echo. Ray had worked the venue before, and he worked so hard that night to constantly balance the sound so that all speeches and music could be heard. He did an excellent job at reading the room all night and played an exceptional range of music, from our must listens to guest requests, and much else in between!! He made sure the dance floor was packed all night. We also had the privilege of having Ray's wife as the assistant, who was also incredible. All of the music, from cocktail hour, to dinner, to the reception, was a perfect mix. The flow of the evening was impeccable!
We would highly recommend Sounds Abound and especially Ray to anyone getting married. They are a professional company who work so hard to make sure your wedding is the best party/exactly what you want!
Claire and Justin
December 31, 2022
Sounds Abound was very professional and easy to work with. Ray Jones was the DJ at our wedding. He kept the party going all night long! You can tell he really loves what he does! All of our friends and family were raving about how great of a job Ray did. Would definitely recommend this company and Ray to others!
Hannah and David
December 4, 2022
We saw them at a wedding expo and were recommended them through our venue. We were given a list of DJs to choose from, and we chose Ray Jones. The process to start was pretty easy and almost everything was organized on their website. We were given our own login for our site. On our site there was a questionnaire to fill out and music selections with the ability to listen to the songs. We set a night aside and had fun listening to music and setting up our playlist songs that were musts and ones to not play. We filled out a questionnaire laying out what we most think of for a typical wedding (first dance, bouquet toss, etc.) as well as basic information about your wedding party. The best part was you can just save it and come back to it all, until two weeks prior to your event. He was a very good DJ constantly changing the music to keep the energy up. He would engage the crowd and try to keep the party moving.
Melissa and Andrew
November 19, 2022
Ray Jones was AMAZING!
Hi Everyone!
We had Ray Jones as our DJ for our wedding night at the Herrington Inn & Spa on October 8th, 2022, and to say he was amazing is an understatement. Ray was great with communication before, during, and after the wedding. He helped us give him a better idea of what music we were looking to hear, and he was extremely easy to work with. Not only was his playlist spot on, but his energy he brought to the wedding and kindness was incredible. We had multiple people that celebrated with us that night that endlessly complimented Ray and the incredible job he did. One of my good friends texted me the day after the wedding and said, "I felt like the playlist was made for me." Everyone was dancing the entire night and having a great time on the dance floor and Ray was one of the biggest contributors to making that happen. Again, his energy and excitement were contagious and made everyone feel welcomed to the dance floor and excited to be out there. Thank you again Ray and we highly recommend him to everyone!
Scott and Paige
October 8, 2022
Ray Jones: YOU NEED HIM IN YOUR LIFE
As I was reviewing DJ videos to select a DJ for our wedding, I found Ray Jones. Instantly, I knew he was the one for us. Even if you're not getting married or have an event, he just seems like a guy you need in your life!! After finally talking with him on the phone, I knew I was right. He is so personable, kind, and hilarious! He cured all my pre-wedding reception jitters by just talking to us. I knew he could be trusted with making our reception into a party. Come wedding day, he was perfect!! The music during our outdoor ceremony and microphones were set up without issues, and everyone in our 180-person wedding could hear our vows. He moved the reception along nicely and when it came time for dancing, he got EVERYONE, and I mean EVERYONE, up to the dance floor. He will involve all the guests in celebrating and dancing. At one point, he started a conga line!! He even let me go behind the DJ set up and let me "spin". I have never had more fun in my life!! His music choices were perfect and played all our favorites and knew what songs to play to keep the party going. We shut it down!! Ray Jones is the DJ you need in your life!!!
Lindsay and Nate
August 6, 2022
Ray Jones was very professional and on point!! Dj Ray knew just what to play and kept everyone on the dance floor all night. I will Highly recommend Ray for any event that needs a good DJ.
Cierra and Donovan
July 22, 2022
Excellent job! He provided the best music which set the tone for the entire reception! He is the best so if you want the best....go with Ray Jones!
Kimberland and Marzette
July 8, 2022
If we could, we would give Ray Jones 10 stars for his performance at our wedding. Ray was phenomenal during the entire planning process and even more phenomenal at our ceremony and reception. He was very patient and understanding and really took the time to play everything that was requested for our 07/09/2022 event to get our guests outta their seats. We've received so many compliments from our guests regarding Mr. Jones. If you are looking for an awesome DJ for your event, look no further, Mr. Jones is your person!
Kenyatta B.
July 9, 2022
Ray is very organized and professional. He takes the time to determine what your needs are and then he DELIVERS with confidence, poise and grace with a lotta party sprinkled on top! No matter what your musical preferences... he will turn your party out!
Gwendolynn A.
April 30, 2022
Ray Jones kept our guests entertained, helped make sure the reception flowed how it was supposed to, and honored every music request we made!
Kaylyn W.
July 2, 2022
Sounds Abound are true professionals, easy to work with and offer great tools to help customize your special day! Planning a large event can be overwhelming, but they were the least of my worries- making working with them enjoyable and stress free.
DJ Ray Jones was a true delight! An absolute gem and professional to work with, DJ Ray went above and beyond my expectations. He did everything to ensure my mother surprise (51st) party was a huge success - he even connected with my dad on the side to coordinate a remake of their first dance from their wedding 30 YEARS AGO! HOW SWEET.
Couldn't be happier having him as our DJ for the evening. Highly recommend!
Alexandria
November 27, 2021
Highly recommend! We hired Sounds Abound and chose DJ Ray Jones for our big day and we could not be happier that we did. Ray is very friendly, personable, professional, and knows how to create a really fun atmosphere. Everyone at our wedding had nothing but amazing things to say about him. The platform they use is very organized for song choices and Ray crushed it. Overall, I would highly recommend working with Sounds Abound and specifically, DJ Ray Jones!
Caroline and Nick
October 30, 2021
Highly recommended! We loved working with sounds abound, and our DJ Ray. They helped us stay organized with song selections, and were very professional. On the big day, we really enjoyed the party with our DJ. He arrived in classy attire, and was professional and incredibly friendly. He kicked off the party, and kept it going until last call. We really wanted a DJ that wasn't going to be on the mic the entire night talking, but rather just jamming and having fun with us. Ray did just that, but make no mistake when he was on the mic doing introductions and keeping the night organized, he has an awesome voice. We had a blast, and would highly recommend this company and Ray.
Erin and Tylor
July 31, 2021
Ray was great!
Ray was extremely responsive over email and made sure to follow up with me multiple times to make sure all was set for our party. He connected directly with the venue, which was a huge help to me, and was so fun throughout the night!! Our guests had a blast dancing to his music all night. Thank you so much Ray, for making our night so special!!
Ashley and Matt
September 25, 2021
Ray was awesome to work with for our wedding celebration party. He was communicative and many people commented on how great the music was. Thank you to Ray for being so great! Also after postponing for covid in 2020, Sounds Abound made it incredibly easy to reschedule our event.
Victoria and Brian
August 28, 2021
Ray was amazing as our wedding entertainer/dj. From our first meeting he was professional and organized. He took the time to get to know us as a couple so that he could provide us with a personalized experience. Covid hit and we had to change our date, venue, and downsize our wedding. Through it all, Ray was accommodating and reassuring. He is truly a man of his word. On our wedding day he showed up early and ready to work. If you hire him for your event you will not be disappointed. Thanks Ray!
Issac and Ashley
September 6, 2020
How special was it to have such a nice DJ for our wedding? We got super lucky when we picked DJ Ray. He chose a nice diverse selection of music and he also MC the entire wedding. I am not sure how the wedding would have flowed without him. We plan to rehire him for any other events because he was truly the best.
Tiana and Samuel
October 29, 2019
Ray Jones did my college room mate's a year earlier and all everyone talked about was how they had a great time and how unique he was as an entertainer with different twist on garter bouquet toss, to the married couples kiss, and the musical chair garter toss.  The music transitions for the multi ethnic audience was superb.
Jordann and Michael
November 16, 2019
Ray Jones was outstanding at our Wedding from the grand introductions of us coming in on a golf cart, to getting everyone to the terrace in 20 degree weather to see our first dance on the putting green, and keeping the dance floor full with young and old all night long. There is no one better than DJ Ray Jones. Highly recommended!
Barry and Danielle
December 14, 2019
More of Ray's testimonials coming soon…